Selling
Let's be honest – you really want to know "How much will listing my home cost me in commissions?"
Our honest answer: 4.5% of the sales price (total commission paid).


Yes, you read that correctly!The JS Realty Team provides

Full Listing Services for 4.5% of the sales price!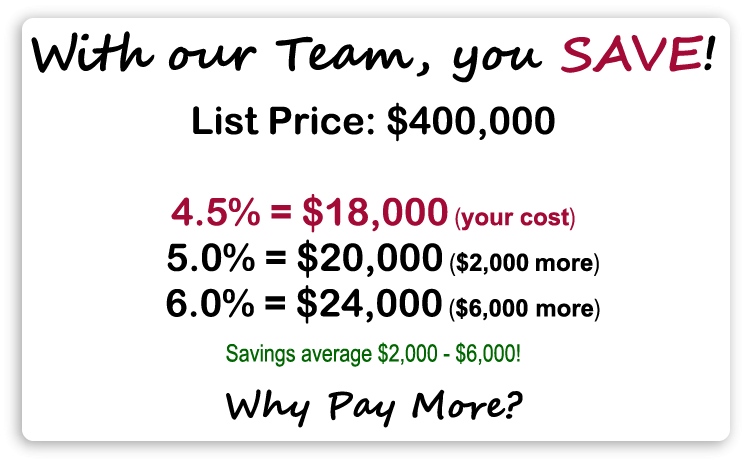 As you can see, the choice is simple – you can hire an average agent to market your home, or you can hire the JS Realty Team, a Team with a proven track record for getting homes SOLD!
Here's why choosing the JS Realty Team is your best option:
Our Marketing Strategy – Realize potentially thousands of dollars more on your home sale from the JS Realty Team's superior marketing program. We employ a diverse range of marketing strategies to expose your home to the most qualified buyers and customize your home marketing plan to fit your needs, your neighborhood market, and your expectations.
Sell Your Home Quicker – The JS Realty Team employs the highest level of advertising services of any individual agent, which means your home is exposed to more buyers, more often.
Advanced Technology – Your home is featured in state-of-the-art media because JS Realty employs the most advanced technological equipment available including cutting edge computer hardware and software and in-house printing systems.
We SHOWCASE Homes – We don't just "show" homes, we "showcase" them. Your home is a source of pride for you. Before it goes on the market, the JS Realty Team consults with you to make any cosmetic repairs or "staging" that will allow you to maximize the return on your investment. We know today's market and what Buyers are looking for; let us help you attract more Buyers, quicker.
Individual Attention - You'll never feel alone or ignored because you receive individual attention from our whole team every step of the way. We are excited to keep you in the loop and look forward to providing excellent communication from start to finish.
Constant Communication – Say goodbye to surprises, providing transparency along the way is our goal. We want to keep you informed to guide you towards making the smartest choices along the way. We will continuously educate you and help keep it simple to understand.
Attention to Detail – You enjoy a smooth transaction because our staff is trained to pay close attention to every detail so you don't have to worry. The JS Realty Team employs, property marketing specialist, transaction coordinators, a showing specialist and a customer service courier to help assure you of a positive selling experience.
The JS Realty Team is proud of their accomplishments in the Northern Virginia Real Estate community. Having sold over 225 million dollars (and counting) in Real Estate, we know that the most important first step toward selling your home is to choose an experienced, professional and results driven team whom you trust. It would be our pleasure to earn your business!
Call or Email today for a FREE HOME ANALYSIS!
For Sellers



---


How much is my home worth?
This will help you determine the approximate value of your house in today's market.

Staging Your Home
How will your home make a really great first impression?

---


What's that smell?
Learn what real estate agents mean when they say "If I can smell it, I can't sell it."


Hiring a Real Estate Agent
You will not know every requirement for selling a home, most especially if this is your first time selling. Ask the expert.


---


I want to sell my own home.
This is not a time for mistakes. Find out what value a real estate agent adds in selling your home.


Home Inspection
A small amount of time that you spend now can give you a better deal for your home. Find out what the "Must Inspect" areas of your house are.


---


Foreclosure Risk
Have you missed your payments? Find out if you are at risk for foreclosure.


Your next home at your fingertips!
Are you also searching for your next home? See all available listings today.


---




FOR SELLERS




FOR BUYERS
| Contact info
Scott Koval & Sarah King Taylor
Realtors®
Scott (703) 625-3446
Sarah (703) 475-1003

14526 Lee Rd. Suite 100, Chantilly, VA 20151